Betway eSports Betting Review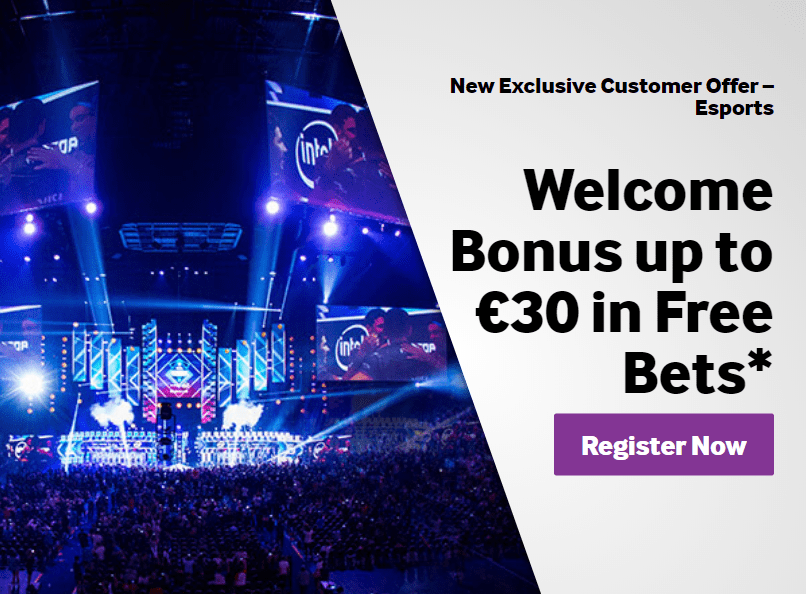 Betway.com is an online esports betting site, which started out in Malta and grew to become the top destination for esports lovers living in Europe or the United Kingdom. Even from just visiting the Betway betting site, it is noticeable that they are focused on making their site the best place for online esports betting, which they have been doing from the very beginning, being the first site that offered proper markets for well-known esports events. In the past few years, the world has noticed an esports betting boom, when sites from different regions started popping up on the internet offering their users the options to bet on their favorite esports markets. However, with such a significant number of sites out there, it is harder than ever to find the right one to fit the player's needs, and even harder to be confident that the site is legitimate, licensed, and safe to bet on. The following review will take an in-depth look at what Betway online betting has to offer regarding safety, legitimacy and betting options. This site is on the list of cs go betting sites.
From Betway best odds and bonus programs to customer support and available esports, all information you may be looking to find – you will find below, in our Betway esports review.
Betway Company Information
Before diving in to cover everything that Betway has to offer, let's take a closer look at the company's background.
Betway was formed more than a decade ago, in 2006, along with many other companies that followed the trend of online gambling. At first, it was simply a sports betting service, but as the customers base grew it started spreading into other betting areas and introduced Betway Vegas, Betway Bingo, Betway Poker and Betway Casino to the gambling market.
Currently, the site holds is managed by Betway Group/Betway Limited and holds licenses in the United Kingdom by the Gambling Commission, and in Malta, Spain, Denmark, Belgium and Germany, where it is licensed by the Malta Gaming Authority. Betway is an online based business, with main offices based in Malta and Guernsey, as well as additional offices present in Cape Town, London and the Isle of Man.
Betway Location and Age Restrictions
Betway is an esports gambling site where players from Austria, Belgium, Canada, Switzerland, Denmark, Finland, Spain, Sweden, Germany, Italy, Netherlands, Norway, Liechtenstein, Luxembourg, Poland, and the United Kingdom are able to enjoy its esports services.
Those based in Australia, Mexico, Myanmar, Philippines, Afghanistan, France, Greece, Syria, Turkey, Uganda, Greenland, Guyana, Hungary, Iran, North Korea, Papua New Guinea, Angola, Belgium, Bosnia, Bulgaria, Denmark, Iraq, Israel, Italy, Lithuania, Romania, Russia, Singapore, South Africa, Spain, and the United States of America, are unfortunately not able to sign up because of the different gambling laws in their countries.
To make sure that a country is on the "allowed" list, all a player has to do is visit the Betway site and select the region where he or she is based in.
Note that no matter the country, Betway allows sign-ups only by players that are above the legal age limit for gambling in a particular country.
Available Betway Esports Markets Available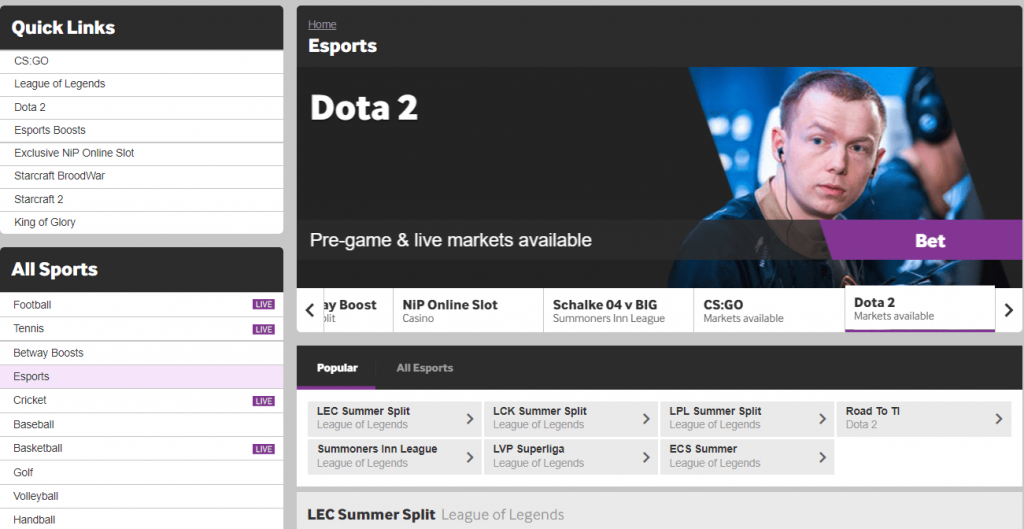 The betting markets users can expect to find at Betway esports site are primarily focused on Dota 2, Counter-Strike: Global Offensive and the League of Legends. The reason is understandable, since these are the most popular and widely played esports, with various events held around the world. This makes the prize pools for these esports worth millions.
Bettors can also bet on the ESEA Australia/ North America, Dota Pit League, Blast Pro Series, Perfect World Masters, LoL World Championships, among other examples.
Overall, it is safe to say that the esports betting markets available at Betway are way more numerous and developed than that of the competition.
Betway Supported Types of Bets
Apart from having one of the most extensive lists of esports available, Betway also supports different types of bets users can make. The usual bet on the winning team is just the beginning. Users can also bet on the Map Winner or the Match Winner of the games that are offered, and also can find specific game bets if the matches support it.
Also Betway offers in play betting on esports matches, being one of the first sites that supported it. Users can use a number of markets such as Win/Draw/Win, Outright, To Win, Correct Score, Double Chance, Totals, Handicap, as well as enhanced multiple bets markets.
Moreover, Betway is one of the very few betting sites that have special offers for esports gambling. Enhanced Betway odds, for example, allow users to make certain combinations of esposrts bets or place a 5-fold+ acca on their selection which will let them to get a free bet if one of the selections does not play as expected.
Betway Sites
Users can access the Betway online betting site through both desktop computers and mobile phones – the site is supported by iOS, Windows, Oppo, and Android. It can be accessed through both a browser or the official Betway application.
The Betway user interface is especially good since it uses clean colors and has a simplistic design, with all the markets accessible with one click on the menu on the left side. The betting options are entirely the same no matter the device the users through which decide to access the betting site.
Another user-friendly item is the "Quick Links" area at the top of the site which gives the players a glimpse of the most popular and widely bet upon esport options.
And, let's not forget the fact that Betway keeps the advertisements to a minimum, making it easy to use and clutter free.
Betway Payment Options and Accepted Currencies
Betway users have a wide array of payment options available since it supports almost all of the world-famous financial instruments otherwise used for Internet shopping. The limitations are always connected to the country of origin of the player, so the services which are available for a certain country have to be checked by the user on the Betway site after signing up.
When it comes to the currencies players can bet in British Pound (GBP), Euro (EUR), United States Dollar (USD), Czech Koruna (CZK), Swedish Krona (SEK), New Zealand Dollar (NZD), Polish Zloty (PLN), and Norwegian Krone (NOK).
Below we break down the payment options generally accepted by Betway:
Bank Transferrequires a minimum of ten euros or dollars deposit. Funds are processed in 2 – 5 working days and are accompanied by zero service fees.
Visa, both deposits, and withdrawals are possible for players coming from Canada, Liechtenstein, Luxembourg, Germany, Finland, Norway, Sweden, Switzerland, United Kingdom.
MasterCard deposits and withdrawals are also available for players coming from Canada, Liechtenstein, Luxembourg, Germany, Finland, Norway, Sweden and Switzerland (deposits only), United Kingdom.
Skrill deposits and withdrawals are available for people from Austria, Liechtenstein, Luxembourg, Finland, Germany, Norway, Sweden, and Switzerland.
PayPal allows only deposits for Austria, Germany, United Kingdom.
Sofortuberweisung allows only deposits only as long as the players are from Austria, Germany, and Sweden.
Citadel Direct, Trustly and Zimpler allow only deposits for Finland and Sweden based bettors.
ecoPayz and Entropay Card deposits and withdrawals are supported for Austria, Sweden, Canada, Liechtenstein, Luxembourg, Finland, Norway, United Kingdom. Entropay Card also supports users from Switzerland and Germany. These countries apart from Liechtenstein can also use Paysafecard to make both deposits and withdrawals.
Echeck, Instadebit, Giropay and iDebit offer both deposits and withdrawals options for players from Canada.
Neosurf users from Canada can make only deposits.
EPS users from Austria are allowed to make deposits only.
Euteller offers deposits only for users from Finland.
Neteller users are offered both the deposits and withdrawals option if they are coming from Finland, Liechtenstein, Luxembourg, Germany, Norway, Switzerland, Sweden, and United Kingdom
Betway Esports Review Final Notes
Taking all of the information above into consideration, it would not be wrong to state that Betway is a market leader, and offers not only a wide array of available esports and markets but also best odds, promotions and generally – options to play. Betway's site is simple and user-friendly, no matter the device it is accessed from, making it easy for both newcomers in the esports world, as well as experience bettors,  to find their way and place their bets. Finally, the fact that it is a legitimate, licensed site, offering fair and transparent gaming practices, deposits and withdrawals makes choosing Betway as the go-to betting destination more than compelling. To top it off, their 24/7 customer support available, be it with live chat, email or telephone hotline, has pinpointed it as the customers' favorite.
Overall, it is hard to conclude anything else but the fact that Betway.com is currently the online esports betting standard and a prime example of how an esports betting site should operate.
---