Unikrn Esports Betting Review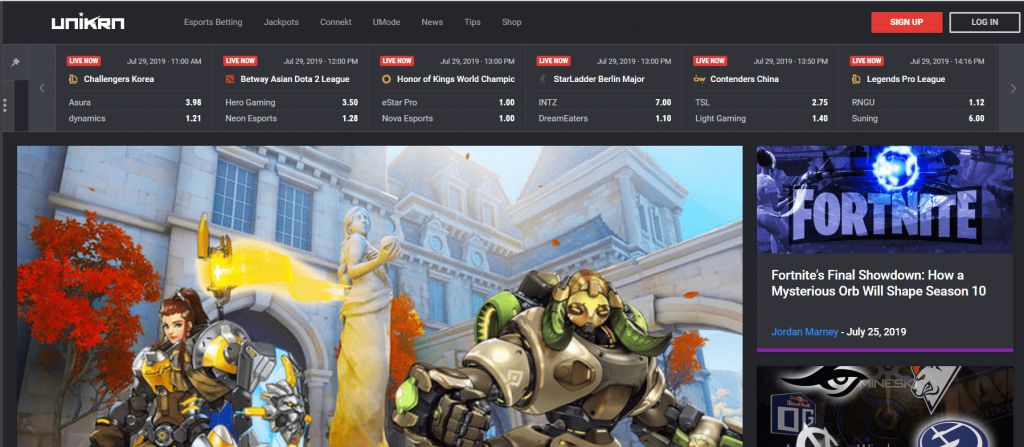 Last year, it was projected that many things would be taking place in the eSports industry, especially in 2019, and right now, there more than you can chew already. Having pumped more than $1.5 into the global economy, you would also have expected even bigger outcomes this year. The truth is that many are now joining cybersports as gamers, entrepreneurs, developers or betting firms. In a nutshell, a lot is already taking place, and with Unikrn, a new video gaming sportsbook that is solely dedicated to eSports. How about that, especially for those who are tired of seeing traditional and cybersports on the same platform?
Well, it is not only going to provide you with a unique experience, but also something that is certainly setting the pace for a new revolution in computer gaming.  The founder of Unikrn, Rahul Sood, an American entrepreneur, in collaboration with a fellow eSports enthusiast, Karl Flores, wanted to give players and streamers of eSports something different. Having envisioned a possibility of combining sports betting and cryptocurrency, he decided to create Unikrn. The result has been explosive, and in the process, drawing the attention of millions of bettors, not to mention investors who have put their money on Sood's new venture.
This post explores his site, so keep reading to learn more.
Why do you need to sign up with Unikrn?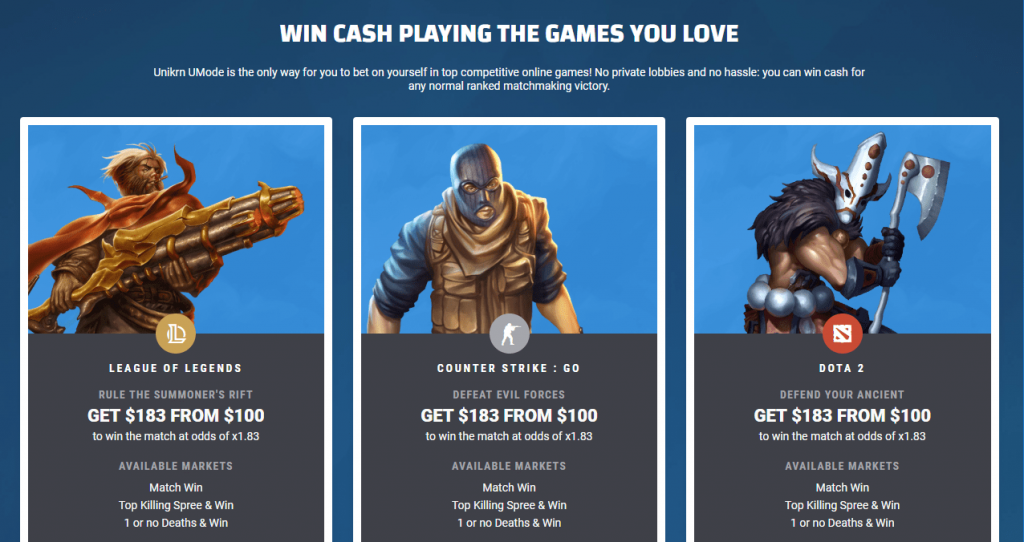 There are many established sportsbooks out there, but even with barely two years in the enterprise, Unikrn is already proving a force to reckon with in the business. Founded by one of the most experienced entrepreneurs who has worked with giant tech companies like Hewlett Packard and Microsoft, and even securing funding from renowned investors like Ashton Kutcher and Mark Cuban, you wouldn't have expected anything less.
On Unikrn, there is more depth, unique experience even on non-betting options and transparency. The option to use the unikoin (money on bets) for raffles, tournaments and other giveaways makes the site outstanding in the midst of many. Live streaming is another feature that contributes to its growth. In a record two years, it had turned over 250 million unikoins. However, these successes are nothing compared to Sood's decision of introducing cryptocurrency in the mix. Given a huge success that Blockchain has enjoyed in spite of tight regulations by governments, Unikrn introduced ERC20 token, namely, UnikoinGold. It was an instant success that gathered more than 112, 720 ethers (estimated at $31.4 million) following an ICO that ran from 22nd September to October 23rd 2017. Presently, it is working on introducing UnikoinSilver, something which will further boost Unikrn wallet.
What types of games are available on Unikrn?
As for wagering on cybersports, players and bettors will find the platform pretty impressive. It puts together a comprehensive list of some of the most popular eSports. The games you find in this website are League of Legends, Overwatch, FIFA, King of Glory, Call of Duty, Word of Tanks, Fortnite, PUBG, NBA2K, StartCraft2, DOTA2, Rocket League, Heroes of The Storm, Street Fighter  V and CS:GO.
What are the betting market options?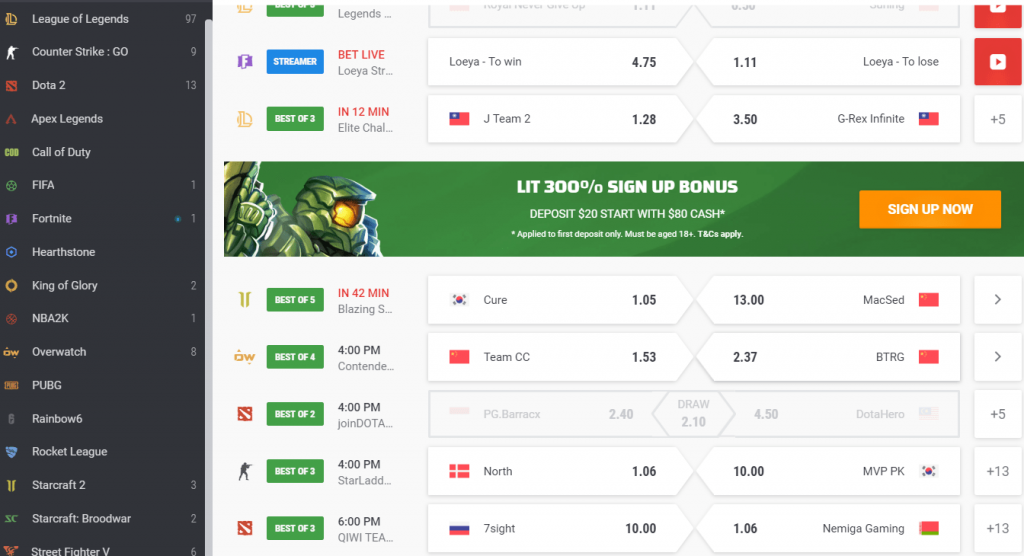 You would want to spread risks when wagering on eSports, which is why betting options, become the next focal point. On Unikrn, even without much experience, you wouldn't be disappointed. Take, for example, League of Legends which features more than 30 competitions. Twitch also makes it possible to watch and wager on live events without lags, and the graphics are phenomenal.
LoL comes with several markets such as Map 1 winner, Handicap, Map 2 winner, First blood map 1, First Tower Map 1, First Baron Map 1 and First Dragon Map 1. You can withdraw your earnings in UnikoinGold or UnikoinSilver.
How to withdraw winnings?
Unfortunately, Unikrn no longer offers real money betting options in Australia and the United Kingdom after parting ways with Tabcorp. However, you should expect such as an option in Malta. But with its crypto tokens, you don't have to worry about your wallet balances after winning.  With sites like CoinHub, bettors can always get their winnings in fiat currency. Account top up and withdrawal options include BPAY, POLi, Credit Cards and Wire transfers to bank accounts.
Available Bonuses and promotions
There are many available bonuses, offers on the site as well as promotions. From free bets, welcome bonuses to reloads, you get more when you wager on any of the games. Gamers get awarded in skins valued at $30/40 or UKG. Moreover, it is a mobile-friendly sportsbook with a great user interface, and customer support is available via email or telephone. Also, users can win a prize by wagering on jackpots.
---